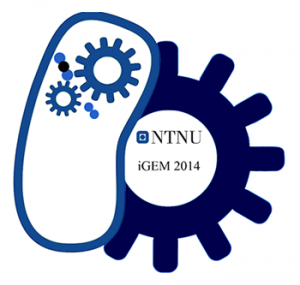 Written by the NTNU iGEM team together with Rahmi Lale.
Synthetic biology is an interdisciplinary field with the aim of modifying and/or engineering organisms to perform specific functions (e.g. synthesis of desired compounds). The fulfilment of these aims is based on altering the genetic structure of the organism, which governs its internal processes. A computer-based example of synthetic biology would be to fuse the iGEM official logo with the NTNU colours and logo (figure 1).
International competitions for scientists
The iGEM (international genetically engineered machine) foundation is a non-profit organization that promotes the advancement of research and development of synthetic biology. This is achieved by hosting international competitions for scientific teams on both graduate and undergraduate levels. The competition is within the field of synthetic biology, with the aim of cultivating scientific innovation and creativity through collaboration. The iGEM competition began in 2003 at MIT in Boston (USA), and started out as a course given during an Independent Activities period. In the years following, it expanded to become an international competition, with participating teams from more than 35 countries from all continents.
NTNU has participated in iGEM for four consecutive years and has previously been the sole participating team from Norway. To our great joy, this year the University of Oslo has also registered for the competition, reflecting the increasing awareness of and interest in iGEM in Norway. The iGEM competition is rapidly evolving, and high school teams may participate in a High School iGEM. In a hope that Norwegian high school teams will appear in the near future, we have participated in activities and conversation at events such as "Open day" (picture 2) and "Researcher's night".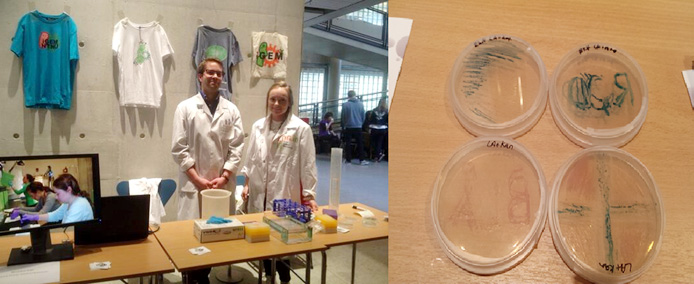 iGEM directly to the world final
Normally, teams are selectively filtered through regional competitions, and only the elite teams meet for the world final in Boston; however, this year iGEM celebrates its 10th anniversary, and the regional competitions are abolished. Instead, every registered team proceeds directly to a giant jamboree (world final) in Boston (USA) in October-November. This year 246 teams will participate. Every team must present their project through a poster and an oral presentation, and due to the amount of participating teams the giant jamboree lasts for five consecutive days. Even though the competition is months away, we can feel a strong spark of excitement whenever thinking about the reward of meeting likeminded scientists with a wide variety of views and ideas. The Jamboree is also open to non-participating individuals for a fee.
NTNU iGEM in social media
We hope that people reading this would like to follow us at Twitter "@NTNUiGEM" and Facebook "NTNU iGEM", and make sure to check out our wiki web site. Note that this site is under construction, but since we have computationally competent people working on it, it should start looking decent pretty soon. Please don't hesitate to contact us if you have any questions. We will be happy to answer almost anything on our Facebook page or through our Twitter account. Hope to hear from you!
In our next blog post, we will provide more information about our team and research.