In order to stall the climate changes, more CO2 emitting industries must install technology for carbon capture and storage. To make this type of technology more available, I work on a way to make CO2 capture technology less energy demandig.

Since the start of the industrial revolution, the concentration of CO2 in the atmosphere has dramatically increased due to human activity. As CO2 is largely the reason for global warming, it is causing global temperatures and sea level to raise and it is changing weather patterns and climate. Fortunately, there are several measures we can do to prevent damaging consequences of climate change as they are in fact caused by human activity. One solution is carbon capture and storage (CCS).
Chemical absorption of the CO2
In my PhD I will focus on CO2 capture by means of chemical absorption. It is the most mature technology to capture CO2 and has already reached commercial stage at Boundary Dam in Canada. A chemical absorption process capture CO2 from CO2 emitting industries such as combustion of coal and cement production.
How the absorption process works
The flue gas containing CO2 enters an absorption column and reacts counter current with a solvent. After the solvent has captured CO2 it is led to a desorption column where the CO2 is released and the solvent is returned to the absorption column. Unfortunately, the energy demand related to solvent regeneration is high and more research is needed.
My goal is therefore to identify and characterize a solvent system that enable low energy requirement.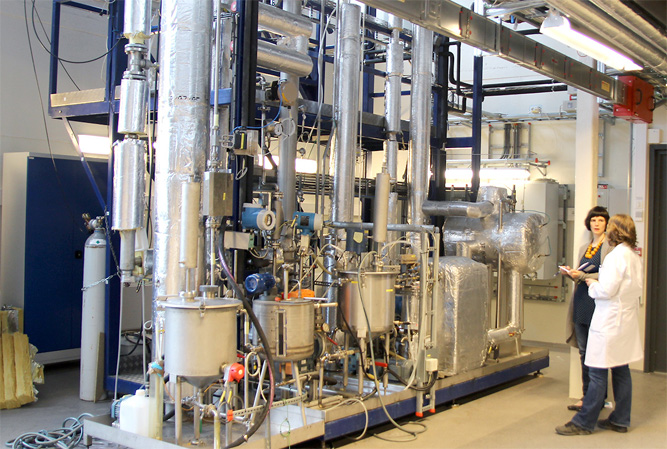 Systematic experimental work
A solvent system that has already shown potential to reduce the energy demand is blended amine systems, which consist of a primary or a secondary amine and a tertiary amine. Through targeted experimental work and systematically vary molecular properties of the amines, we hope to find a solvent that will lead to a real break-through in solvent technology. It can then be more economically feasible to implement a CO2 capture technology.